Reviews Updated for July 2020
So you want to know what the best adjustable beds of 2020 are. In contrast to many other sites, our top rated adjustable beds were carefully selected after a scientific ranking and review process. Bedroom Solutions' adjustable bed ratings were compiled based on the following 5 criteria.
Availability of the 3 Most ESSENTIAL Features

Availability of Supplementary Features

Manufacturer Reputation

Consumer Reviews

Price
Modern adjustable beds are popular because they have various features that help people not only sleep well, but also help fight back aches, acid reflux, restless leg syndrome (RLS) etc. etc. The video below goes through the top 6 major features you should know about before reading our adjustable reviews.
5-Step Review Process of Adjustable Beds
Analyze 100+ adjustable beds

:

First, we analyzed over 25 adjustable bed specs and over 1000 consumer reviews on 100+ beds


Identify the MOST IMPORTANT specs:

Then we identified the

3 MOST useful features

and many optional features
Assign Points: Then we assigned a score to each adjustable bed frame according to the following:

features offered,
manufacturer reputation,
consumer reviews and
pricing structure.


Rank: Then we ranked the best adjustable beds according to how many points each bed scored

Review: Finally, we compiled detailed reviews for each of the top 7 adjustable bed frames.

The above video explains the importance of the 3 Must-Have features and 3 Optional features of adjustable beds. Please invest a few minutes of your valuable time to watch it so that you can decide if you need them or not.
Top 10 Adjustable Bed Specs You Need to Know About
3 Must-Have Specs, 3 Optional Specs and4 Supplementary Specs
Out of the many dozens of features offered by bed frame manufacturers, we strongly recommend that you choose an adjustable bed with the following 3 'MUST-have' specs if your budget allows. Their health benefits, in terms of saving your neck and back, outweigh the investment of a few hundred dollars.
3 MUST-HAVE Specs

Pillow Tilting: better head and neck support when sitting up on the bed (reading, watching TV etc.)

Wall Hugging: keeps you next to the nightstand even when the head is raised
Programmable Memory Positions: program your own, custom positions

These are HIGHLY recommended features with any age group, but especially so, if you're closing up on the senior years!
3 Optional Specs

Lumbar Support

: for those who need extra back support

Furniture-style Decking

: for those who like the gorgeous looks

Elevation Lift

: to prevent acid reflux/ heartburn
4 Supplementary Specs

Head and Foot Massage

: to relax and relieve those tired muscles


Storage-bed Compatibility



Height-adjustable Legs


Under-bed Lighting



Click on the boxes below to expand and read up on the major benefits of these features.

For better head and neck support while watching TV, reading or working on the computer.
Most adjustable beds have only (A) head tilting and (B) foot tilting. Head tilting doesn't support your head and neck sufficiently, especially when you're trying to keep your head straight while watching TV or reading a book.
Pillow tilting, a third level of articulation, provides the head and neck the additional support needed for watching TV, reading books, working on the computer etc. from bed. We strongly recommend you to pick an adjustable bed with pillow tilting because it can save you a lot of pain in the long run!
Keeps you close to the nightstand in the upright position
On non-wall hugging adjustable beds, as you raise the head, your whole body moves forward placing the nightstand out of reach. Turning back to reach something on the nightstand can give you neck and back sprains.

Wallhugger engineering eliminates this and makes the bed base slide back as you raise your upper body so that it never leaves the headboard or the nightstand.

Program your one-touch 'favorite positions' as per your personal preferences.
Most average adjustable beds come with 'preset' memory positions instead of customizable memory positions. With preset positions, you have to be content with what the adjustable bed manufacturer programs for you.

In contrast, customizable memory positions give you the power to control your favorite memory positions based on your personal preferences!

This was first introduced on Serta Motion adjustable beds way back in 2014/15 and later adopted by other adjustable bed manufacturers. This feature comes with an independently functioning 'arm' that jumps out of the bed exerting pressure on the back region. You can control how much it jots out and thereby control the amount of pressure on your back. This can help relax tensed up muscles at the end of a long day. However, if you have an injured backbone, you will need to seek professional advice to ensure that lumbar support will be harmless for your specific condition. Generally, the best adjustable beds for back pain are those with the lumbar support feature.
This is an optional feature. The upholstered deck adds a touch of class and looks gorgeous in high-quality models. However, if you're planning on placing your adjustable base inside a wooden bed frame (sleigh bed, platform bed etc.), the upholstered deck may get covered by the wooden frame.
Therefore, we recommend furniture style decking especially if you will use your electric bed as a standalone bed without placing it inside a wooden or metal frame.
Beds with Elevation Lift can do wonders in combating acid reflux aka heartburn.
This 4th level of articulation allows the whole bed to be raised at an angle so that your upper body can be elevated above the lower body preventing stomach acids from refluxing against gravity in to the esophagus.

For obvious reasons, this is not comparable to a massage you will get from your personal masseur. The massage offered by adjustable bed bases can vary from a continuous vibration in entry-level adjustable beds to advanced pulsations or rolling waves (from head to toe) on premium bases. Further, the massage intensity can be changed and high-end models also have built-in massage timers which will automatically turn the massage off after you fall asleep.
The Science behind the Massage

Massage makes you relaxed and fall asleep by activation of the parasympathetic nervous system which in turn stimulates the release of a series of calming and sleeping hormones (e.g. dopamine, serotonin, melatonin). Whether it's real human massage, a mechanical and motorized massage or a weighted blanket, it's the same principle that helps you feel calm and sleepy. This is also known as Deep Touch Pressure (DTP) or Deep Pressure Therapy (DPT) and is used as a therapy in certain medical conditions.
Platform or storage bed-friendly
Some adjustable bed frames come with legs that are height adjustable: e.g. as short as 3" or as tall as 10". This is a useful feature because it lets you change the leg height depending on your height or the mattress thickness.
This too can be a useful feature because it will give enough light to light up the floor to show you the way to the bathroom, yet be not too bright so as to wake up your partner.
Based on the availability of (A) above features, (B) brand/manufacturer's reputation, (C) available consumer reviews and (D) adjustable bed price, we have selected and reviewed the top 7 adjustable bed frames for your perusal.
The 7 Best

Adjustable Bed Brands
The following models are our top rated adjustable beds of 2020. The top ranking adjustable bed frames are premium or high-end models with all the bells and whistles. As you go down the list, the models become gradually less feature-rich and more budget-friendly.
Overall Best Adjustable Bed of 2020


a) Additional 5% off in the Cart on the Manufacturer's Website (cheaper than Amazon Price as of July 4th 2020)

b) The Most Feature-Rich adjustable bed in the market

c) It's one of the best recommended beds for back pain

d) AS3 is the best adjustable mattress we recommend with the DM9000s bed frame


Most Luxurious Adjustable Beds

a) Probably has the highest quality upholstery finishes

b) Expensive: over $2500 for a Split-king


Best Adjustable Bed Frame and Mattress Combo

a) High-quality adjustable base and cool gel memory foam mattress

b) Over $3000 for a Split-king size


Layla Adjustable Bed Frames

Best Mid-Range Adjustable Frames

a) Over $2000 for a Split-King bed


b) Alexa and Google Home compatible

c) Cheaper, basic model also available


Split-queen option available

a) Powered with Leggett & Platt motors

b) Excellent customer reviews

c) Under $1300 for a Split-King base


Bear Adjustable Foundation

Best Adjustable Base with an Aluminum Frame

a) Storage and Platform Bed Friendly

b) The Aluminum Frame makes it unique


c) Priced above $2000

Best-value Budget Friendly Frame

a) Basic model with an amazing price

b) Under $800 for a Split-King size

Note: adjustable bed ranking process is described here. All adjustable bed prices indicated on the above table are accurate as of June 25th 2020.
Disclaimer: We triple check every fact displayed here to make sure that we paint an accurate picture of an adjustable bed in your mind. But our team of humans are not perfect and we can make mistakes just like everyone else. So, it's best that you cross check our details with those given on the relevant product pages.
---
Here's a detailed review of our #1 ranked adjustable bed frame to help you make an educated decision.
Overall Best Adjustable Bed of 2020
This is the most-feature rich adjustable bed you will find on planet earth right now. It has all the major adjustable bed features except one (read about it in the 'Cons' section below)

It has the following 3 'MUST-HAVE' Features:

Independent Pillow tilting

better neck support during reading, TV watching etc.


Wall hugging

to keep you close to the nightstand even in the upright position


FOUR Memory Positions

(3 programmable + 1 preset) on the remote to get to your favorite positions with a single click
7 More Pros of the DM9000s:

Lumbar support

to relieve tired/aching back muscles. This is adjustable; you can increase or decrease the lumbar pressure using the 'Lumbar Up' and 'Lumbar Down' buttons.


Upholstered, furniture-style decking

for great looks (hides the 'ugly' metal frames if you wish to use it as a standalone bed, without a wooden bed frame)


Quad-massage

with timer and rolling-wave feature

Economically priced

:

adjustable bases from certain other brands are over $1000 more expensive

(for a split-king size)

despite having fewer features

10-Year Extended Warranty

on Parts and Labor




Microhooking mattress retention

instead of the mattress retention bar which is old-fashioned and gets in the way when making the bed (tucking the sheets under the bar can be annoying)

Platform bed/ storage bed-friendly

(zero-clearance adjustable bed). More than 90% of the models have mechanical components jotting under the adjustable foundation preventing you from using it with a storage or platform bed frame.



Here are some additional 'BONUS' features (these are NOT 'need-to-have' features; but are definitely 'nice-to-have')

4 USB Ports (2 on either side)

Height adjustable legs (6 - 10 inches)


Bluetooth speaker

+ subwoofer


Under-bed LED lighting
Discount valid as of 7.20am CST, 4th July 2020
What are the DM9000s Cons ?
We failed to find any drawbacks/ limitations of this model except for the following two:
It lacks 'Elevation Lift' which is a feature recommended for sleepers with heartburn. If you don't have heartburn, its absence on this model is not an issue.

Over the years, we've seen this model go out of stock regularly. May be they can't keep up with the demand (just guessing). Consider yourself lucky, if it's in stock when you're reading this.

Detailed Reviews on the Best Adjustable Beds of 2020
1. DM9000s Base – Overall Best Adjustable Bed of 2020
The DM9000s by DynastyMattress is our #1 recommended adjustable bed of 2020. It won this coveted position in 2019 surpassing 2018's best model, the Prodigy 2.0.
Overview of the DynastyMattress DM9000s adjustable bed frame
8 Major Pros of the DM9000s
Independent Pillow Tilting

: Of the many adjustable bases with pillow tilting, only a few have truly independent pillow tilting. When pillow tilting first came about, there wasn't a dedicated motor for it. There were only two motors, one for the feet and the other for the head. After the head tilt was completely raised, the motor would go on to tilt the pillow section. In contrast, adjustable beds such as the DM9000s has a 3rd motor dedicated for pillow tilting. Therefore, you can tilt the pillow section anytime you want, even when the head section is completely lowered and flat. How cool is that? !!

July 2020 Update

: Extra 5% off in the Cart on the Manufacturer's Website
Independent Lumbar Support: In addition to the 3 motors for head, foot and pillow tilting, the DM9000s has a 4th motor for its independent lumbar support feature. You can raise or lower the lumbar support arm to increase or decrease pressure on your lumbar area. Just like there is a 4th motor for that, there are also a couple of independent buttons on the wireless remote to operate them. It is this lumbar support feature that makes the DM9000s one of the best adjustable beds for back pain. Check out what this customer has to say about the Lumbar Support.

Four Programmable and Preset Memory Positions

: The DM9000s comes with three programmable memory positions and one preset memory position. The Zero Gravity, Memory A and Memory B are customizable according to your personal preference. You can program Memory A and B to anti-snore, lounging, feet relaxing, or TV watching position based on the most common positions you'll use.

Wall Hugging

: up to 11″ back travel keeps you within reach of the nightstand even when you're raised into a sitting up position

Furniture-style decking

: Beautifully upholstered furniture-style deck allows you to use the adjustable bed as a standalone bed without placing it inside of a wooden bed frame. However, note that this can also be an disadvantage: for example, if you were planning on placing your adjustable bed inside of an existing wooden frame, this may not fit inside your frame (make sure you double check the dimensions). Also, you're paying for the furniture-style double decking and then in turn hiding it inside your wooden frame… doesn't sound right does it?

Great Price

: all other adjustable beds with the above features are priced roughly about $1000 higher than the Dynasty Mattress DM9000s. So if you need these high-end specs, would you buy this model or pay an extra $1000 for a different brand?

Lifetime Warranty

: If you were worried about the relatively cheap pricing, worry not. The DM9000s comes with an amazing warranty

Lifetime warranty on the steel frame
10-year full warranty on parts and labor

Miscellaneous Features

: In addition to the adjustable bed specs described above, any DynastyMattress DM9000s review will tell you that it has the following bonus specs.

4 USB ports
Bluetooth speaker system with a sub-woofer
Anti-slipping Micro-hooking mattress retention system in addition to the mattress retention bar
Under-bed LED lighting
Legs with 6 – 10″ adjustable height
Quad-massage
Available in all the different adjustable bed sizes: Twin XL, Queen, King, Split King (Eastern), California King, California Split-King
2 Cons of the DM9000s Adjustable Bases
There are hardly any limitations as such; however, we list below two 'imperfections' of the popular reclining bed.
Elevation Lift: The DM9000s doesn't have the 'Elevation Lift' feature, a feature currently offered only on Glideaway adjustable frames. You only need this if you have heartburn. If you don't have heartburn, aka acid reflux and GERD, you don't need to worry about it.

Stocks

: Over the years, something we've noticed is that it doesn't remin instock continuously. It goes out of stock, once every few months. We don't know why that is, but may be the manufacturer can't keep up with the demand (just guessing).
We have done a detailed DynastyMattress DM9000s bed review elsewhere. But you really don't need to go there. Everything you wanted to know about the adjustable base was explained here for you !!
2. Amerisleep Adjustable Bed – Most Luxurious Adjustable Beds
The Amerisleep Adjustable Bed+ model holds a unique place among adjustable beds. Based on our research, it is none but the famous Leggett & Platt Prodigy 2.0, possibly made with some speficic modifications tailormade to Amerisleep requirements. While we really want to rank it at the #1 position, we can't because it lacks a couple of features compared to the DM9000s and S&S Platinum, and also because it's fairly more expensive than those two models.
Overview of the Amerisleep Bed Frame
15 Major Pros
Independent Pillow tilting

: for more comfortable reading, TV watching and browsing

Wall hugging

: to keep you close to the nightstand even in the upright position

Four customizable memory positions

: 2 on the remote and 2 on the smartphone app to get you to your favorite positions in a flash

Two additional preset memory positions

: Anti-snore and One-Touch Flat positions

Advanced massage features

: pulse, rolling-wave or full-body massage with timer

Whisper-quiet motors

: make sure that you don't wake your partner up

Excellent finish on the upholstery

: cheap models have wrinkles, but not this Amerisleep base

Up to 25 Year Warranty on the frame

(depends on the model you choose)

Safety Lock on remote

: to prevent unintentional movements of the base

Excellent manufacturer reputation

: well known American company
Eight USB Ports (4 on each side)
Under-bed LED lighting
Sleep timer and gentle wake-up alarm
Smartphone/App compatible
Up to 850 lb weight lifting capacity (including the mattress)
4 Cons of the Amerisleep electric bed
Expensive

: it is about 30% more expensive than the previous two models (for a split-king base)

No lumbar support

: this is a feature recommended for individuals with back issues

No furniture-style decking

: this can actually be a good thing if you're placing this inside a wooden bed frame

No elevation lift

: this is a feature recommended for individuals with acid reflux and not everyone needs it
Summary of the Amerisleep Bed Frame
Finish-wise, nothing comes close to the Amerisleep Prodigy 2.0. If you want that luxury touch, can afford the extra expense, and don't need lumbar support, this the Amerisleep is your #1 adjustable bed.
3. Prodigy Comfort Elite – Best Adjustable Bed Frame and Mattress Combo
This model was given birth to by Leggett & Platt in 2018/19 when they added the major modification 'lumbar support', to their famous Prodigy 2.0 adjustable frame. This is a very high-end foundation that packs almost all the features of the DM9000s except two major ones.
The Prodigy Comfort Elite lacks the following features compared to the DM9000s:
No Furniture-style decking
Not a zero-clearance model (not storage-bed compatible)
7 Pros and Cons of the Leggett & Platt Prodigy Comfort Elite
5 Major Pros of the Prodigy Comfort Elite bed
Independent Pillow Tilting: similar to the DM9000s, this has a dedicated motor for pillow tilting. The foot section can be tilted by up to 45 degrees, the head section can be tilted by up to 75 degrees, and the pillow section can be tilted by up 7 degrees.

Wall Hugging

: it has ~8″ of back travel towards the headboard so that you stay adjacent to the nightstand

Four Memory Positions

: It has 2 preset memory positions (anti-snore and flat) and two programmable positions which you can set according to your personal needs.

Independent Lumbar Support

: similar to the DM9000s, this too has a separate lumbar support bar operated by a dedicated button on the remote

Miscellaneous Features

:

8 USB Ports: 4 ports on either side
Head and Foot Therapeutic Massage with pulse and wave massage
6″ – 10″ height adjustable legs let you raise or lower the frame as per your personal preferences
Under-bed lighting
Smart bed with iOS and Android apps
Available in Twin XL, Queen, King and Split-king sizes
Price fluctuates, we've never seen it cheaper than $2500 for a split-king model. That's about $600 – 700 more expensive than the DM9000s
2 Cons/ Limitations
Foundation-style adjustable base

: unlike the DM9000s, this is not a Furniture-style frame. However, this can be a good thing if you're going to place it inside a wooden frame

Not compatible with platform beds or storage beds

: as you can see from the image above, various arms stick out the bottom preventing you from using it as a zero-clearance bed or keeping it on the floor
Even though this doesn't have all the features of the DM9000s, it is your number 1 option if you're looking for a electric bed without furniture-style decking.
4. Layla Adjustable Bed Frames – Best Mid-Range Adjustable Frames
The Layla adjustable base comes in two models: (i) the basic model, Layla Adjustable Base and the (ii) feature-rich model, Layla Adjustable Base Plus. This review is on the Layla Adjustable Base Plus.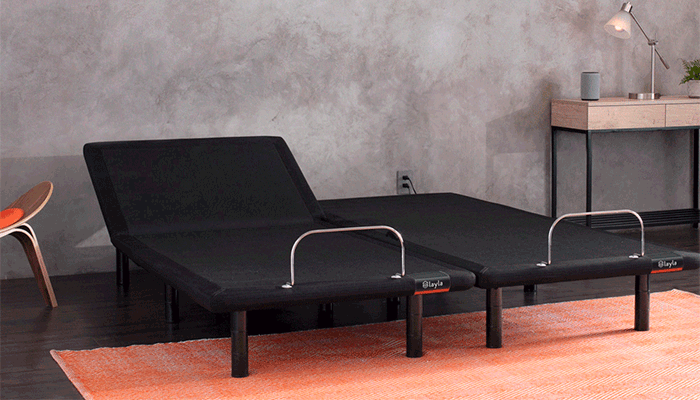 Important Features of the Layla 'Plus' Bed Frame
It comes with the following features:
Wall Gliding (same as wall hugger technology)
Head and Foot dual-zone Massage with 3 different intensities and auto-shutoff timer
Three preset memory positions: Zero Gravity, Anti-Snore and One-Touch Flat
Underbed Lighting
Alexa/Google Home Compatibility and Connects to your smartphone via Layla's Wifi App
30-day Trial (100% Money Back Guarantee): with such a guarantee, what have you got to lose?
Four USB ports
Easy assembly
Adjustable leg height – the top of the base can be as low as 5″ off the ground or as high as 14″ off the ground as per your wish
Anti-sliding deck – the mattress stays put without sliding off the bed
Last but not least, it comes from the popular and highly respected brand, Layla
Limitations of the Layla Plus Reclining Bed
No pillow tilting – no big deal if you won't be watching TV, reading books etc. for very long periods
The Layla adjustable bed also has the #2, #3, and #4 limitations mentioned above for the Amerisleep base
The basic model has fewer features than the above Plus model. However, it has a more economical and affordable price tag.
5. iDealBed 4i Custom – Best Entry-Level Base
First things first… the 4i has been produced by iDealBed partnering with Leggett & Platt, a giant in the adjustable bed industry. If you checkout the DealBeds website, you'll see that iDealBed has partnered with not only Leggett & Platt, but also Reverie, to produce several custom adjustable bases under the brand name of iDealBed. This is great news for the consumer because when you purchase an iDealBed adjustable bed frame, you're getting the high quality of Leggett & Platt or Reverie for a much cheaper price point. Amerisleep has a similar partnership with L&P. The Amerisleep Adjustable Bed+ is very similar to the Prodigy 2.0 with a few customizations done for Amerisleep.
Major Pros & Cons of the iDealBed 4i Custom
It's manufactured in partnership with Leggett & Platt; no need to worry about the iDealBed brand name, if you haven't heard that before
Designed and engineered in the USA
Two customizable memory positions
Three factory pre-set memory positions – Zero Gravity, Anti-Snore, and Flat
Three-speed and 3-mode (wave, pulse, continuous) massage with timer
850 lb weight lifting capacity (that's one heck of a powerful motor)
'Ultra quiet' motor (they're Leggett & Platt motors)
Delivered to your doorstep, all pre-assembled. No need of fancy tools to make it stand up
Raise the head section up to

70°

and the foot section up to 45

°

Wireless back-lit remote (doesn't look pretty)
Four USB ports
Under-bed night light
Limitations of the iDealBed 4i Custom adjustable bed
The following 3 specs are generally only found on the most high-end adjustable luxury bed frames and you shouldn't be surprised that the 4i doesn't come with them
It lacks pillow tilting
It doesn't come with wall hugging
It doesn't have an upholstered, deck-on-deck design
We have done a detailed iDealBed 4i Custom review elsewhere on Bedroom Solutions. If you're seriously considering this model, I highly recommend you check that out.
6. Bear Adjustable Foundation – Best Adjustable Base with an Aluminum Frame
The Bear adjustable bed stands out like a sore thumb among other electric beds. Can you guess why, by looking at the image above? Well there are two differences mainly. One is that the Bear comes with a non-upholstered Aluminum frame. Secondly, it's deck comes in 4 independent sections. It is a relatively basic model with fewer features than most other beds. However, it made it to our list of best adjustable beds on the basis of the high marks it scored on the trustworthy and familiar brand name and the high-quality of the product.
Overview of the Bear Adjustable Base
Has wall hugging
It's from Bear
It comes with a 10 year warranty
Major CONS of the Bear bed
PRICE – it ain't cheap; in fact, it's one of the most expensive in our list of top 7 adjustable foundations.
7. Milemont – Best-value Budget Friendly Frame
Noteworthy Features of the Milemont Adjustable Base
Most noteworthy feature of the Milemont is its cheap adjustable bed price. As of May 2020, you could purchase a pair of Twin XL Milemont adjustable foundations for under $800.
It comes with basic head (up to 60 degrees) and foot inclinations (up to 45 degrees)
One programmable memory position and one preset position (one-touch flat) on the remote
Simple, 10-minute assembly
Storage-bed compatible – use it without legs on a platform bed or chuck a luggage under the bed
High-end Features the Milemont bed Lacks
No Pillow Tilting, Wallhugger, Lumbar Support, Massage, or Furniture-style decking
No USB ports, under-bed lighting, height adjustable legs or microhooking mattress retention
Let us reiterate, the Milemont is not for those seeking a luxury adjustable bed with all the bells and whistles. This is a basic model that packs all the essential features that make a bed an adjustable bed.
Now you should have a fairly good idea about the most popular adjustable bed specs and which of the above movable beds will serve your purpose best. If you're still not sure about which model suits you best, please check out the following adjustable bed frame reviews based on the functions they specialize in.
Adjustable bed brands for different specialized functions
Overall Best – DM9000s (2020 ranking) and Leggett & Platt Prodigy 2.0 adjustable bed (2018 ranking)

Best for Back Pain – DM9000s, Leggett and Platt Prodigy Comfort Elite (2018-19), Reverie 9T (2017)

Best for Seniors – Glideaway Elevation, Ascend and Vesta beds
Best Beds for GERD/Acid Reflux – DM7500, Glideaway Vesta and Odessa
Best Mid-Range Adjustable Beds – Layla, iDealBed

Best Anti-Snore Bed – Any model with the anti-snore preset and independent pillow tilting

Best Adjustable Beds Prices / Value for Money – iDealBed 4i Custom, Milemont

Best Value Split-King adjustable beds – Blissful Nights, Sven and Son Classic

Best Entry-Level Models – Blissful Nights, Milemont

Best Luxury Adjustable Beds – Amerisleep Adjustable Bed+ (Prodigy 2.0), Sleep Number FlexFit Smart adjustable bed and TEMPUR-Ergo® Extend adjustable base
Best Adjustable Mattresses - Amerisleep AS3, Latex for Less and Lucid mattresses

Why you should trust Bedroom Solution's Adjustable Bed Comparisons & Reviews?
Because of the dozens of unsolicited testimonials we have received like these (you can see all of them at the bottom of the page on the comments section)
Vincent Corso Jr
"..... I am a 65 year old with back issues ............... Your video and knowledge has been instrumental in my decision ................... Your site was extremely appreciated and your professionalism impeccable. "
Caleb Turner
"I love'd reading your reviews, the website is incredibly useful and full of information. ..................................... I thought if anybody would have an answer it would be y'all. Thanks in advance!!"
Kathryn Ryan

"Love your site – I have learned so much about the features of adjustable beds. We are in our mid-70's and with advancing medical issues (sleep apnea, acid reflux, aching joints) ..................... Thank you so very much!"

The Adjustable Bed Buyer's Guide
Now that you have gone through the above guide on how to pick one of the highest quality adjustable beds, you should now answer the following two questions.
What do I want from my adjustable bed?
Which adjustable bed features do I want in my bed base?
Recap: Reviews of adjustable beds based on different functions
The adjustable bed will be used for…

Major feature needed for that function

Best bed for the job

Watching TV, Reading, Laptop Work
Pillow Tilting
Our #1 Recommended Beds, DM9000s and Sven & Son Platinum
Snoring
Pillow Tilting (anti-snore position)
Same as above
GERD/Acid Reflux
Elevation Lift Articulation
Glideaway Elevation and Ascend beds
Seniors
Elevation Lift Articulation
Same as above
Easily Reaching the Nightstand
Wall Hugging
Prodigy PT, Blissful Nights Wall Glider
Back Pain
Lumbar Support
Prodigy Comfort Elite with Lumbar Support, Sven & Son adjustable base
Relaxing Tired Muscles
Therapeutic Massage Motors
Same as above
Instantly Adopting Your Favorite Position
Programmable Memory Positions
Prodigy PT, Reverie 9T and Sven and Son Classic bed frame
Charging Devices
USB Ports
All of above, iDealBed 4i Custom, Amerisleep adjustable bed
Awesome Looks
Deck-on-Deck Furniture Style Design
Reverie 9T, DM9000s, Prodigy PT
Remember, the Best of the Best Adjustable Frames have all of the above and more…
Can you now decide which adjustable base fulfills your needs the best?
---
Typical Adjustable Bed Prices
Adjustable bed prices can range from approximately $400 – 8000 (for a Milemont base vs a Sleep Number FlexFit 3 or certain Tempur-Pedic, Glideaway and Leggett & Platt models).
If you do your research right, you can get a fully fledged split king adjustable bed for less than $2000 or a split-queen adjustable bed frame for less than $1500. You just have to spend a couple of hours with our adjustable bed guide.
Conclusion on Top Rated Beds

So, what's the final verdict after all these adjustable beds reviews? What's the best adjustable bed in the current market? Which type of adjustable bed suits my particular needs best? Well… here are the answers.
Entry-level adjustable bed frames work best for…
An entry-level adjustable frame like the Milemont or the iDealBed 4i would do just fine
If all you want is to raise the head (e.g. to watch TV) or feet (e.g.. you have restless leg syndrome),
If you have no intention of using therapeutic massage, USB ports, Bluetooth connectivity, smartphone compatibility etc.
If you're on a budget and don't want to spend for features you'll rarely use
High-end Adjustable Beds for Sale
If what you expect from an adjustable bed is not what is listed above, you will want a top-of-the-line adjustable bed with all the bells and whistles, we recommend you choose a model like the DM9000s, Sven & Son, Amerisleep or even the Glideaway Elevation if you need an anti-acid reflux bed.
Last but not least, remember that you'll need to compliment your high-quality adjustable bed with a durable adjustable bed mattress. Be sure to explore our top 7 adjustable beds to view specific reviews, prices and more.
---
4 Best Adjustable Mattresses
Latex and Memory Foam mattresses are undoubtedly the best adjustable mattresses. Air mattresses like those from Sleep Number also work. We do not recommend conventional innerspring mattresses and water beds to be used as adjustable mattresses. Hybrid mattresses with individually wrapped coil springs also work, but we like to emphasize again, that you'll get the highest durability with a high quality latex or foam mattress.
Pure Green Natural Latex Mattress
100% Natural Pure Latex (from Sri Lanka) - It's not Synthetic Latex Foam, it's not commonly found Poly Foam, and it's not even blended Latex Foam
Quilted Cover made from Organic Wool from New Zealand and Organic Cotton
Available as Soft (for side sleepers), Medium (for back sleepers and combination sleepers) and Firm (for stomach sleepers) depending on sleeper preference
9" total thickness

6" Natural Latex Foam base layer
2" 20 ILD Natural Latex Foam top layer
1" Organic Wool Padding

Sleeps Cool - air chambers makes sure the mattress stays cool. Breathable organic wool and organic cotton allow easy air exchange/circulation
Fire resistant - wool padding provides a natural fire barrier allowing the manufacturer to eliminate use of fire-retardant chemicals on the mattresses
GREENGUARD Gold Certified by UL - No Fire Retardant Chemicals or Fire-Barrier Cloths thanks to naturally fire resistant wool
Unlike certain memory foam mattresses, no odors, no assembly time; ready-to-sleep as soon as you open the packing

Comes with a 120 night sleep trial

Made in the USA

Free Shipping and Free Returns

20 Year Warranty

100% Natural Latex and Organic Cotton

2-in1 design: two different firmness options on either side

Hybrid mattress - top natural latex layer + middle plush memory foam layer is + bottom individually wrapped spring coils

100 Night Risk-Free Trial

Cheap option

Frequently Asked Questions (FAQ)
Are adjustable beds worth it?
Yes, adjustable beds are worth the investment because they have many health benefits.
Can you use any mattress on an adjustable bed?
No, you cannot use all types of mattresses on an adjustable bed frame. Latex and foam mattresses are most suitable for use on inclining bed bases.
How much does an adjustable bed cost?
Adjustable bed prices start at around $400 and go all the way up to $10,000 depending on the size, different features offered and whether an adjustable mattress is included or not.
Is it good to sleep in zero gravity position?
Yes, sleeping in the zero gravity position can relieve tension on your back.
Do you need special sheets for an adjustable bed?
No, you don't need special sheets for adjustable beds, however, fitted sheets with elastic straps work best.
Are adjustable beds good for side sleepers?
Yes, if you use only a slight inclination, adjustable beds work for side sleepers. But, if you want to incline more than 10 degrees, a special kind of adjustable base with elevation lift is recommended.
What are the best sheets to use on an adjustable bed?
Fitted sheets with elastic straps right around or on the 4 corners work best.
Can I use a headboard with an adjustable bed?
Yes, you can fix a headboard on to an adjustable bed frame using headboard brackets.
What is the best adjustable bed on the market?
DM9000s, Amerisleep, Leggett & Platt Prodigy Comfort Elite etc. are examples for best adjustable beds in the current market.
What is the best adjustable king size bed?
The best king size beds come from DM9000s, Amerisleep, and iDealBed; however, this highly depends on your specific requirements.