Layla Adjustable Bed – The Best Mid-Range Electric Bed Frame
Layla is mostly known for its wide range of mattresses ranging from memory foam to hybrid mattresses. They had a few platform beds also in their product range and have recently started to manufacture adjustable beds as well. Even though the Layla is not a high-end adjustable bed like the DM9000s, the Prodigy Comfort Elite or the Amerisleep, it still packs a lot of features that makes it a worthy competitor in the category of mid-range adjustable beds.
Layla adjustable bases are available as two models: (i) the basic model, Layla Adjustable Base and the (ii) feature-rich model, Layla Adjustable Base Plus. This review is on the Layla Adjustable Base Plus.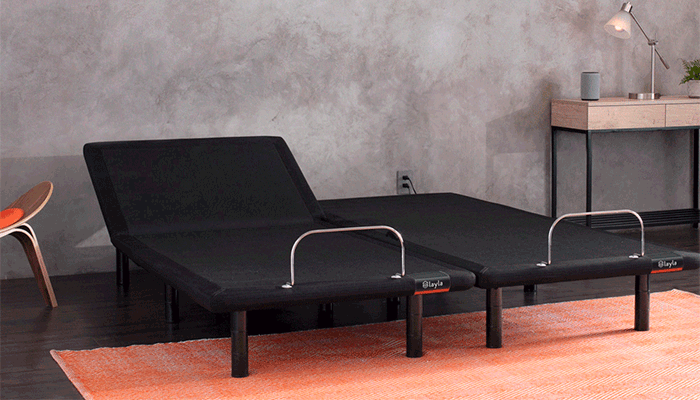 Pin
Important Features of the Layla 'Plus' Bed
It comes with the following features:
Wall Gliding (same as wall hugger technology)
Head and Foot dual-zone Massage with 3 different intensities and auto-shutoff timer
Three preset memory positions: Zero Gravity, Anti-Snore and One-Touch Flat
Underbed Lighting
Alexa/Google Home Compatibility and Connects to your smartphone via Layla's Wifi App
30-day Trial (100% Money Back Guarantee): with such a guarantee, what have you got to lose?
Four USB ports
Easy assembly
Adjustable leg height – the top of the base can be as low as 5″ off the ground or as high as 14″ off the ground as per your wish
Anti-sliding deck – the mattress stays put without sliding off the bed
Last but not least, it comes from the popular and highly respected brand, Layla
Limitations of the Layla Plus Reclining Bed
No pillow tilting – no big deal if you won't be watching TV, reading books etc. for very long periods
The Layla adjustable bed also has the #2, #3, and #4 limitations mentioned above for the Amerisleep base
The basic model has fewer features than the above Plus model. However, it has a more economical and affordable price tag.